French ISPO 2022
Amparo Prosthetics was present at French ISPO Congress, that took place in beautiful Marseille, in the South of France, on 17th and 18th of November 2022.
ISPO France was created in 1994 as a branch of ISPO (International Society for Prosthetics and Orthotics) and regroups more than 242 members specialized in the O&P sector in France. The Congress has been taking place for more than 16 years. It is a real business platform. Most of the French O&P technicians visit the exhibition every year as they know all the important companies in Technical Orthopedics are present showcasing their latest innovations. This Congress also benefits from visits of specialists coming from other French speaking countries such as Belgium, Switzerland, Tunisia, Morocco, Algeria, and other African countries. France is one of the most important European countries with over 60 million people. It is estimated that the number of amputees is over 37.000 in France.  Every year more than 3.000 amputations take place, and 12.000 Prosthetic devices are placed on French patients. As a company we are present in more than 30 countries but are still looking for good partners in several areas of the world and France is one of the countries we wish to develop further.
Amparo Confidence Socket was present, and this exhibition was a great success. Thank you to all the visitors. If you wish to receive further information, contact us by email at hello@amparo.world. See you next year!
---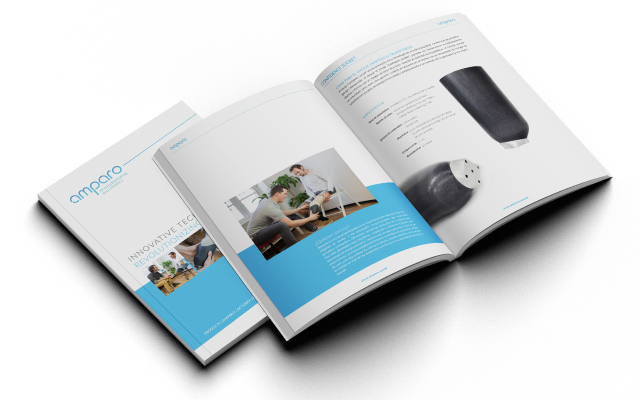 brochure online
Innovative technologyRevolutionizing prosthetics
Our project
has support of